Kansas City, MO, September 7, 2022: The Rocket Grants are back. Charlotte Street and the Spencer Museum of Art are thrilled to announce the 10 recipients of the 2022 Rocket Grant awards.
The awardees were selected from a highly competitive pool of 65 applications. For this cycle, the jury consisted of four artists and curators with varying professional backgrounds and areas of research. Jurors included: Brandon Alvendia (artist, curator, and educator based in Chicago, IL), Matthew Willie Garcia (artist and Studio Manager at Lawrence Arts Center, based in Lawrence, KS), Nneoma Ilogu (Curator-in-Residence at the Bemis Center, based in Omaha, NE), and Cory Imig (artist and arts administrator based in Kansas City, MO). The 10 recipients of the Rocket Grants will receive full grants of $6,000 for each project, for a total amount of $60,000 in funding from The Andy Warhol Foundation for the Visual Arts.
Taken collectively, these Rocket Grant projects uplift historical narratives of the LGBTQIA+ community, trans women of color, Black histories, and indigenous voices. Several of these projects ask audiences to gain a deeper understanding of Kansas City histories and provide a research framework. Charlotte Street Foundation will be hosting a Rocket Grants Award Ceremony on September 15, with full details below.
Rocket Grant Award Ceremony
Charlotte Street Foundation,
September 15, 2022
6:30 – 8:00 PM
3333 Wyoming Street, Kansas City, MO 64111
Free and open to the public
RSVP on Eventbrite
KC Rainbow Tour
Joel Barrett
The KC Rainbow Tour is an interactive, narrated, self-guided, driving tour of Kansas City's rich LGBTQIA+ history. During the tour, diverse voices will recount colorful socio-historical details about each location. Kansas City has played a pivotal role over the years in our national fight for LGBTQ equality, but this remains largely unknown, as LGBTQ history is often unrecorded or incomplete. Through this project, understanding our history can unite the past and present and result in a greater appreciation of both the similarities and the differences under our rainbow.
Indigenous Reclaiming Spaces / Natives Now
Mona Cliff
This project consists of a public mural in Lawrence, KS, as well as a series of public programs and community workshops. Following the Natives NOW project in Topeka, KS, this work expands to an area of Lawrence which the native community frequents the most. Haskell Indian Nations University is a multi-tribal university where Native American students attend from all over the country. In collaboration with Lawrence community organizations, there will be a ribbon skirt making workshop and a Chokecherry planting day with seed bomb making for kids.
Neighborhood Heroes
Devin Edwards
Neighborhood Heroes is a collection of murals around the Eastside of Kansas City. The murals will depict the "Crusaders" which are Edwards's characters who grew up on the Eastside of the city and dress up as their favorite superheroes to help others in the community.
Closure is Not Justice
Andrew Johnson, Aja Edwin Mujinga, Bryan Sheppard
How do you challenge an entire city's collective memory? This multi-media installation is an experience intended to interrogate the public memory of the 1988 explosion that killed six Kansas City firefighters, and the 1997 convictions of five innocent people from the nearby Marlborough neighborhood accused of causing the explosion. Closure is Not Justice is an interactive exhibition at a former fire station that invites the public to engage with the public memories surrounding the case and consider the public's complicity in the wrongful convictions.
Spoken Easy / Slam Series
John Lewis
The purpose of the Spoken Easy/Slam Series is to give opportunities to artists, poets, and vocalists alike, who are getting their feet wet in the performance community. Since its inception in 2018, the Spoken Easy Series has been poetry heavy, though vocal musicians, comedians, and visual artists have been featured. This series is a fresh, innovative take on traditional open mics. Guests and artists often feel more comfortable in an urban outdoor setting, while hearing stories from the youth and veteran artists.
I'm So Glad
Nancy Meis, Paul Wenske, Isaac Cates, Chris Wenske
The documentary film I'm So Glad will explore the unique legacy of Black gospel music through the stirring music and stories of Kansas City's pioneering greats of the past, today's best-known artists, and lesser-known active artists. Through stories, film, photos and music – much of which has never been presented before – the film celebrates the rich heritage of the Kansas City area's Black musical legends and contemporary artists, their impact on the development of gospel music and their contributions to the nation's larger cultural history.
Only the Wounds and Weapons Have Changed
Scott Myers, Jacqueline Gafford, Frances Farah
This original Black History play features many lesser known people who have played key roles in the struggle to completely liberate people who were captured and shipped from Africa to America to be sold as slaves. The play dismantles what author James Baldwin called "the white falsification of history," showing instead the whole truth by creating dialogues that could have taken place between people who were actual contemporaries. Significant scenes in the play will be staged in the non-traditional spaces of 4 Kansas City public libraries.
core.
Brittany Noriega
core. is an artist-run, non-commercial art zine that highlights Kansas City creators, their artwork, and their lives. It is a quarterly publication that first launched in June 2021 and showcases artists from all creative backgrounds and mediums. The zine is free to the public and currently available in 9 locations throughout the Kansas City metro area.
Snapping Back: A Trans Women of Color Sex Workers + Artist Empowerment Project
Kelly Nou and Fynelle Fristoe
Snapping Back will combine dance, voguing, live performance, spoken word and short documentary narratives in an interactive, curated, and immersive experience in a historic Troost venue. This project highlights trans women of color as established choreographers, dancers, performers, actresses and long-time contributors to the vibrancy, beauty and resiliency in our Kansas City artistic communities.
ArtMoves
Dwight Smith and Regina Nouhan
ArtMoves is a multimedia project of videos and podcasts produced in Kansas City. It highlights the vibrant pool of visual artists in Kansas City and the regional Midwest. Additionally, ArtMoves expands public knowledge about all aspects of visual art, including art appreciation, art collection, and behind-the-scenes presentation at various art fairs, galleries, and museums.


The 2022 Rocket Grant Jury
Brandon Alvendia
Brandon Alvendia is an artist, independent curator, and educator. Brandon researches and regularly collaborates with artist-run initiatives around North America to develop site-specific community-driven exhibitions, events, and publications that create space for experimentation, discussion, and collaboration. He is the founder of Chicago alternative spaces artLedge (2004-2007 w/ Caleb Lyons), BEN RUSSELL (2009-2011 w/Ben Russell), The Storefront (2010-2014), and Silver Galleon Press (2008-present).
In 2020, Brandon was Saturday editor and livestream producer/host for The Quarantine Times (published by Public Media Institute), organized the Zoom happenings OFFICE PARTY 1&2, and closed the year out with an internet performance series for public intimacies, curated by Abigail Satinsky at Tufts University Art Galleries, Boston titled The Love Bug (Fwd:LOVE-LETTER-FOR-YOU). In Fall 2021 he mounted two solo projects in Catskill, New York, the first Portrait of the Artist as a Colossal Wreck at CoProsperity and NFT (Not F*cking Telling) at a disused bank on Main Street (no nfts were minted in either case.)
Brandon has taught at the School of The Art Institute, University of Illinois, and Columbia College, all in Chicago, and Maine College of Art (MECA) in Portland, ME. He is an alum of The School of the Art Institute of Chicago (BFA '03), the University of Illinois at Chicago (MFA '07), Copycat Academy (Toronto, 2014), and Independent Curators International Curatorial Intensive (New Orleans, 2015). In 2021, he was ICI's Research Curatorial Fellow focusing on artist-run projects in the Mississippi River Basin, as well as brought on as lead curator for Public Media Institute's revival of the MdW Fair, artist-run art fair and assembly in Chicago,IL. This updated fair is expanded to include projects throughout the central Midwest to convene in Chicago in Fall 2022.
Matthew Willie Garcia
Matthew Willie Garcia is a printmaker whose work moves far beyond the traditional print media, which includes screen printing, mokuhanga, projection-mapping, animation, and large-scale installation. Drawing on his love of science and science fiction, Garcia explore his queer existence and the unknowable qualities of the universe. Garcia uses his knowledge of printmaking to explore these themes through color abstraction, the graphic image, and nonrepresentational forms.
Garcia is a California born printmaker who is currently living and working in Kansas City, MO and Lawrence, KS. He received his B.F.A. in Printmaking from the Kansas City Art Institute and his M.F.A. from the University of Kansas. Garcia has shown his work regionally throughout the Midwest. Most notably his work was included as part of the "Queer Abstraction" exhibition at the Nerman Contemporary Museum of art, "Star Children" exhibition at the Bradbury Art Museum and is currently on display at the Des Moines Arts Center as part of the "Immersive" exhibition. His work has also been shown internationally as part of "Sumi-Fusion" Mokuhanga exhibition in Nara, Japan and is shortlisted for the 2022 On Paper exhibition in Barcelona, Spain. Garcia is currently the Studio Manager at the Lawrence Arts Center in Lawrence, KS.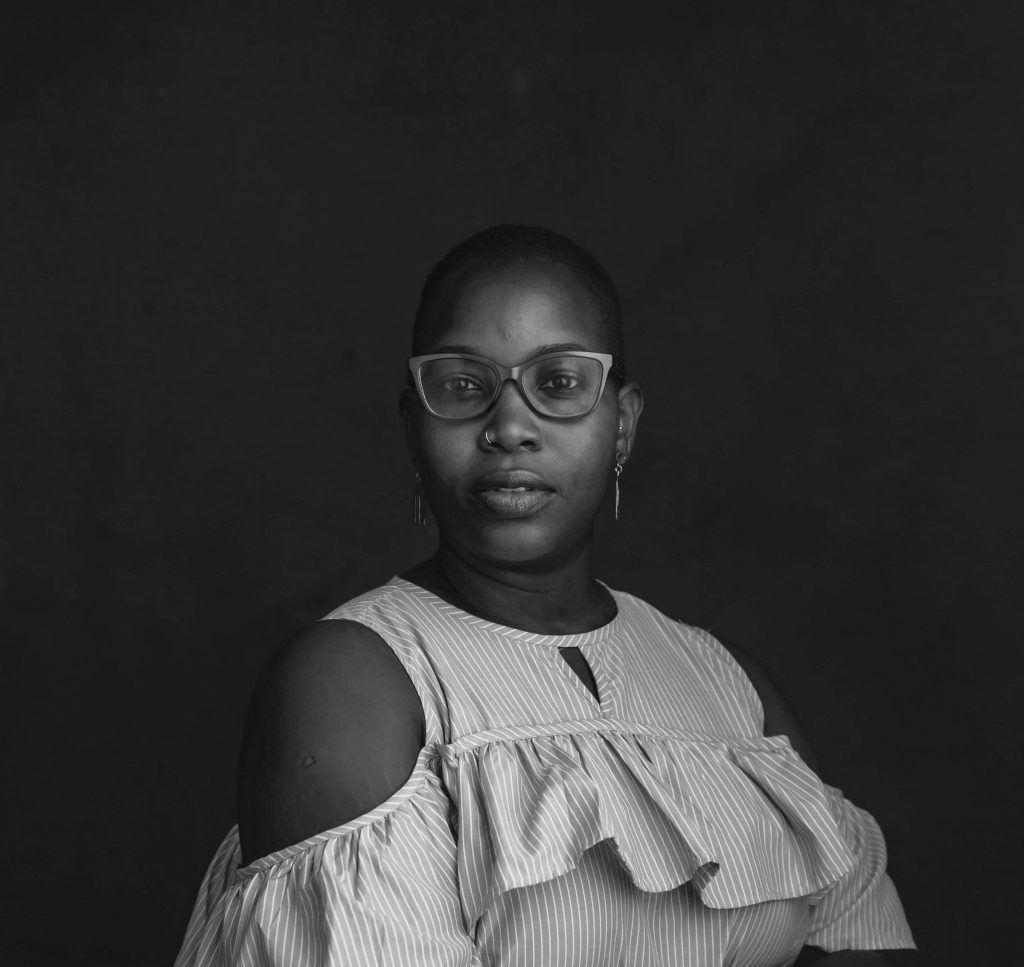 Nneoma Ilogu
Nneoma Ilogu is the 2022-23 Curator-In-Residence at the Bemis Center for Contemporary Arts in Omaha, Nebraska. Previously, she was based in Lagos, Nigeria with experience in curatorial and program development both locally and internationally. She is the Assistant Curator and Manager of Exhibitions and Programs at SMO Contemporary Art, an international curatorial and consultancy platform in Lagos, Nigeria. During her time at SMO, Ilogu has worked with a wide range of established, mid-career, and emerging artists, as well as co-curated showcases at international fairs in London, Miami, and Lagos. Her collaborations include institutions such as the Goethe-Institut, and in her curatorial practice she has researched and documented several private and corporate collections.
Ilogu's curatorial focus aims to craft sensory experiences that not only seek to inspire change but breach life's more challenging conversations through art. Such projects include Unmasked (2018), an all-female multi-media exhibition that sparked critical discussions on the various ways women contort themselves to fit societal expectations. Ilogu has also explored other subjects through interactive panels and seminars with a variety of topics ranging from mental health to the democratization of art spaces such as museums.
In her forthcoming work, Ilogu continues to investigate the concept of cultural memory, honing in on the role of materiality in forging identities. While at the Bemis Center, she will continue her research on the agency of materials, and its use to preserve and reclaim culture and history. Ilogu will also serve as a professional resource to the Bemis Center Artists-In-Residence and the Greater Omaha arts community, as well as develop an exhibition and public programs based on her research and interests.
Cory Imig
Cory Imig is an artist and arts administrator based in Kansas City, MO. Imig has exhibited in numerous exhibitions across the United States, in spaces such as Crystal Bridges Museum of American Art, Savannah College of Art and Design Museum of Art and Southwest School of Art in San Antonio. She is a 2020 recipient of the Charlotte Street Foundation Visual Artist Award and has attended residencies at Art Omi International Art Center, ACRE and Vermont Studio Center.
Imig was a founding member of PLUG Projects (2011-2015), a curatorial collaboration in the Stockyards District of Kansas City, as well as Say Uncle (2015-2018), which was a 3-year nomadic residency and exhibition program in Central Illinois, and a founder of Beyond Alternatives (2018), a symposium which focused on artist-led projects happening outside of large metropolitan areas. Currently, she is working on a large-scale multiyear project, Impractical Spaces, with Dulcee Boehm and Paddy Johnson that documents the history of artist-run spaces across the country.
ABOUT THE ROCKET GRANTS
With support from The Andy Warhol Foundation for the Visual Arts, Rocket Grants provide direct funding to artists in the Kansas City region who create exceptional, under-the-radar, and artist-centered projects in public spaces. Artists, curators, collectives, and collaborative groups residing within an 80-mile radius of the Kansas City metropolitan area are eligible to apply.
Rocket Grants award up to $6,000 to individuals or artist groups for projects that exist outside established venues such as museums, galleries, theaters, or arts districts. Artists are encouraged to address the community at large or choose a smaller, targeted audience. The long-term goals of the Rocket Grants program are to encourage emerging and non-traditional artistic practices in the Kansas City region, to contribute to a thriving arts community, and to build bridges between geographic and cultural communities.
In accordance with Andy Warhol's will, the mission of The Andy Warhol Foundation for the Visual Arts is the advancement of the visual arts. The Foundation manages an innovative and flexible grants program while also preserving Warhol's legacy through creative and responsible licensing policies and extensive scholarly research for ongoing catalogue raisonné projects. To date, the Foundation has given over $260 million in cash grants to more than 1,000 arts organizations in 49 states and abroad and has donated 52,786 works of art to 322 institutions worldwide.
ABOUT THE SPENCER MUSEUM OF ART
The Spencer Museum of Art, located on the University of Kansas Lawrence campus, explores the intersection of art, ideas, and experiences. With a diverse collection of more than 47,000 works, the Spencer is the only museum in Kansas with contemporary and historic artwork in all mediums from cultures across six continents. The Spencer Museum facilitates arts engagement and research through exhibitions, artist commissions and residencies, conferences, performances, lectures, children's art activities, and arts and culture festivals. Admission to the Spencer Museum of Art is free. Learn more at spencerart.ku.edu
ABOUT CHARLOTTE STREET
Charlotte Street centers Kansas City's most forward-thinking visual artists, writers, and performers—acting as the primary incubator, provocateur, and connector for the region's contemporary arts community, and its leading advocate on the national stage. Since 1997, Charlotte Street has distributed over $2 million in awards and grants to artists and their innovative projects, and connected individual artists to each other and to the greater Kansas City community. For more information about Charlotte Street, its awards, programs, and initiatives, visit www.charlottestreet.org.
###