Friday, January 25 through Saturday, February 23
"There does not exist a forest as an objectively fixed environment: there exists a forest for the park ranger, a forest for the hunter, a forest for the botanist, a forest for the wayfarer, a forest for the nature lover, a forest for the carpenter, and finally a fable forest in which Little Red Riding Hood loses her way." – Giorgio Agamben, The Open: Man and Animal
Charlotte Street Foundation welcomes its first visual arts exhibition of the year, Staging Ground, in la Esquina Gallery, located at 1000 W. 25th Street in Kansas City, MO. The exhibition will run from Friday, January 25th through Saturday, February 23rd. The opening reception for the exhibition takes place on Friday, January 25 from 6:00 PM through 9:00 PM.
In Staging Ground, the landscape is treated as subject, object, and location; a place for action, representation, and romanticization. Artists JE Baker, Carl Baratta, The Blue River Road Investigators (Trey Hock and Brent Jackson), Christopher Carroll, Rachel Frank, Jenny Kendler, Lilly McElroy, eduardo restrepo, and Rodrigo Valenzuela engage with the natural world using the landscape as a site for performance, intervention, fabrication, and exploration in order to address the storied relationship between humans and nature. These artists intrude upon a wilderness in which they can never completely belong, yet, drawing upon Agamben's notion of shifting realities, they confront this separation, demonstrating their own reverential and at times hubristic tendencies in the process.
On February 16 at 4PM, writer Lucas Wetzel sits down with Brent Jackson and Trey Hock to discuss their work Blue River Road Investigators and how it became Postlude: An Exploration of B.R.R.I. Knowing the chatty and meandering nature of Brent and Trey, other topics will almost assuredly be addressed as well. A casual and conversational tone is encouraged. No dress code is required.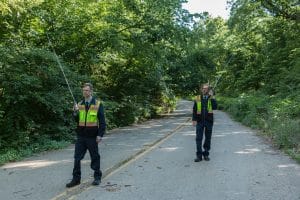 JE Baker is an artist, curator, and educator who creates experiences that are durational and unfold in space. Baker's artwork has been exhibited across the country at venues including Plug Projects (Kansas City), Fort Gondo (St. Louis), Ralph Arnold Gallery (Chicago), Clough-Hanson Gallery (Memphis), and Gallery UNO (Chicago), among others; as well as internationally at Wilcox and Sax Gallery (Banff, Alberta) and at Schiller's Garden House (Jena, Germany) as the recipient of a Cultural Exchange Grant from the U.S. Embassy in Berlin. Her curatorial projects have been realized at Pulitzer Arts Foundation (St. Louis), Granite City Art and Design District (Granite City, IL), COOP Gallery (Nashville), and the Union for Contemporary Art (Omaha) among others. Baker's writing has appeared in various publications including Journal of Artists Books and Probing the Skin: Cultural Representations of Our Contact Zone . She has been the recipient of numerous awards and was a finalist for the Contemporary Art Museum St. Louis's Great Rivers Biennial in 2015. She has taught or lectured on studio and curatorial practice at Columbia College, Washington University, University of Missouri in St. Louis, Lindenwood University, Northeastern Illinois University, and the Kansas City Art Institute where she serves as Assistant Curator at the H&R Block Artspace. Her current research is focused on the cultural, social, and ritualistic practices of bathing, and the figure of the bather as a signifier of desire, objectification, embodiment, and identity.
I [Carl Baratta] shift images on the studio wall around and hang different paintings and drawings of mine next to each other to reveal new aspects of an image. The more on the wall to ponder over the better. The imagery is driven by mythology, poetry, songs, frankensteined bits of doodles, visual puns, paint mistakes, popular and unpopular culture references, observation, and of course, other 2 and 3D works. The drawings I'm showing for this exhibition are plein air inspired abstractions of the surprisingly large area of The Hollywood Hills. Each outing is a hike into the hills from one of its many entrances or parks. During a hike I try to find interesting areas which are neither picturesque nor unique. Instead, as I roam around I try and look for areas that would yield the greatest chances for interesting formal investigations to make dynamic spatial illusions. In addition to being an artist, I am proud to be co-director and an actively curating member of the artist run space, Tiger Strikes Asteroid as I wander around Los Angeles.
As the Blue River Road Investigators, artists Trey Hock and Brent Jackson sought to highlight the beauty and complexity of an undervalued space, the 10 mile stretch of Blue River Road in Kansas City, Missouri. The work included performance, installation, and a variety of interactive elements such as tours and programming. The work explores how humans interact with and value the space around them and the needs that drive these interactions. Brent Jackson is an artist, writer and poet who is a native of Kansas City and a dedicated explorer of its spaces, urban, suburban and rural. Through visual art, prose and poetry, he proposes a new way of seeing a landscape and region that is often maligned. Trey Hock explores the markers of narrative through short film, writing, installation, photography, performance and web-based social media platforms. His work interrogates the assumed physical and social constructions that surround us.
Born and raised in Kentucky, Rachel Frank received her BFA from The Kansas City Art Institute and her MFA from The University of Pennsylvania. She has attended residencies at Yaddo, The Marie Walsh Sharpe Foundation, The Museum of Arts and Design, The Skowhegan School of Painting and Sculpture, The Innoko National Wildlife Refuge in western Alaska, and most recently at the Museum of Contemporary Art in Tucson, AZ. Recent solo exhibitions include the SPRING/BREAK Art Show, Thomas Hunter Projects at Hunter College, and at Standard Space in Sharon, CT. In 2018, her work was shown in "The Sentinels," a two-person exhibition with Heidi Lau at Geary Contemporary in NYC. Her performance pieces have been shown at HERE, Socrates Sculpture Park, The Select Fair, and The Bushwick Starr in New York City, The Marran Theater at Lesley University, and at The Watermill Center in collaboration with Robert Wilson. She is the recipient of grants from The Pollock-Krasner Foundation, The Elizabeth Greenshields Foundation, The Puffin Foundation, and The Franklin Furnace Archive. She lives and works in Brooklyn, New York.
For nine years, Carroll and McElroy have been living and working in Maine during the summers and in Manhattan, Los Angeles, and Kansas City for the remainder of the year. Because of the conflicting qualities of these urban and rural settings, the two artists regularly adapt their environmental perspectives and senses of location, a seasonal routine that gives them unique insight into both spheres and simultaneously prevents them from fully identifying with one or the other. The feeling of regional placelessness has resulted in an infatuation with re-visualizing external spaces and evaluating their experiences within them.
Christopher Carroll's work is disparate in media, encompassing video, sculpture, painting/printmaking, and installation. Regardless his chosen medium, his artworks are at once absurd, depressing, frustrating, and, ultimately, beautiful. Despite the recurrent themes of defeat found within Carroll's practice, he believes his work to be not that of a cynic but instead of a Romantic; its central operation is to make the insignificant appear monumental, the empty full, and the shallow deep. It is a task that the early Romantic philosopher, Novalis, defined as an act of "qualitative potentializing."
Lilly McElroy grew up in southern Arizona among bull-riding cowboys, coyotes howling on moonlit nights, beautiful sunsets, and vicious brawls. Her practice often revolves around translating those clichés and experiences into epic photographs and playfully antagonistic videos. McElroy's projects are an exploration of her complex relationship with the American West and what it means to be an American in a time of diminished expectations. Performing for the camera, she enacts feminist gestures that reflect a sense of quixotic hopefulness and a desire to control subjects as ungovernable as nature. McElroy received her MFA from the School of the Art Institute of Chicago and has been a resident at the Skowhegan School of Painting & Sculpture, The Fine Arts Work Center in Provincetown, The Charlotte Street Foundation, and MOCA, Tucson. Recent exhibition venues include The Figge Art Museum and The ICA at MECA.
eduardo restrepo is a visual artist, organizer, and youth educator, originally from the northern andes and currently based in the north eastern coast of the continent. Through performance, video, and photography restrepo generates surreal narratives that draw from research and lived experience, to delve into sites where rurality, gender dissidence, and the diasporic condition overlap and persist. Co- founder of curatorial platform Sweety's, as well as participant at Skowhegan School of Painting and Sculpture, restrepo has exhibited in spaces such as: SOMA (Mexico,) Musée de l'Élysés (Switzerland,) Portland Art Museum (Portland,) and Museum of Jaén (Spain).
I [Rodrigo Valenzuela] construct narratives, scenes, and stories which point to the tensions found between the individual and communities. I utilize autobiographical threads to inform larger universal fields of experience. Gestures of alienation and displacement are both the aesthetic and subject of much of my work. Often using landscapes and tableaus with day laborers or myself, I explore the way an image is inhabited, and the way that spaces, objects and people are translated into images. My work serves as an expressive and intimate point of contact between the broader realms of subjectivity and political contingency. Through my videos and photographs, I make images that feel at the same time familiar yet distant. I engage the viewer in questions concerning the ways in which the formation and experience of each work is situated—how they exist in and out of place.
Jenny Kendler is an interdisciplinary artist, environmental activist, naturalist and wild forager whose work asks us to reexamine the idea of nature as something outside ourselves—making space for the radical, transformative otherness of life on our biodiverse Earth. Kendler has exhibited at Storm King Art Center, the MCA Chicago, the Pulitzer Arts Foundation, the Albright-Knox, the MSU Broad Museum, the Arts Club of Chicago, the California Academy of Sciences, the Chicago Biennial and the Kochi-Muziris Biennale. She has created public projects for locations from urban conservatories and public parks to remote deserts and tropical forests. Kendler received her BFA from MICA and her MFA from SAIC, is Board Co-chair of artist residency ACRE, a member of artist collective Deep Time Chicago—and since 2014 has been the first Artist-in-Residence with environmental non-profit NRDC. Her work has been covered by The New York Times, NPR, Huffington Post, Orion Magazine, The Chicago Tribune and OnEarth Magazine and her sculpture Birds Watching was featured in The New Yorker's best photographs of 2018. Alongside an interdisciplinary team she was recently awarded an Andrew W. Mellon Foundation grant for her community co-created project Garden for a Changing Climate.