Charlotte Street Foundation is excited to congratulate three recipients of the 2019 Visual Artist Awards and two recipients of the 2019 Generative Performing Artist Awards. Newly-announced fellows of the 2019 Visual Artist Awards are Boi Boy, Megan Pobywajlo and Fatimah Tuggar. Newly-announced fellows of the 2019 Generative Performing Artist Awards are Sheri Purpose Hall and David Wayne Reed.
Each Charlotte Street Visual Artist Award Fellow receives an unrestricted cash grant of $10,000, recognition by Charlotte Street at the time of Award announcement and throughout 2019—including announcements to media, web-based marketing and promotional efforts, special events, and inclusion in the 2019 Charlotte Street Visual Artist Awards Exhibition at Kemper Museum of Contemporary Art later in 2019. The exhibition will be curated by Erin Dziedzic, who is the Director of Curatorial Affairs at Kemper Museum of Contemporary Art.
The 2019 Charlotte Street Generative Performing Artist Awards recognize two exceptional artists in the fields of dance, theatre, music, opera, sound art, performance art, multimedia performance, spoken word, puppetry or hybrid performance-based forms. Both of the artists will also receive an unrestricted cash award of $10,000 and their public performances will be promoted by Charlotte Street throughout the rest of 2019.
All of the 2019 Charlotte Street Award Fellows were selected through competitive processes beginning with open calls for applications from artists based in the five-county Kansas City Metro Area.
Artists selections were made by a panel of jurors consisting of renowned and qualified arts professionals. Jurors participated in in-person interviews, presentations, and studio visits, resulting in the selection of 9 finalists for the Generative Performing Artists Awards and 10 finalists for the Visual Artist Awards.
The Visual Artist Awards panel included Erin Dziedzic, Director of Curatorial Affairs at Kemper Museum of Contemporary Art (Kansas City, MO), Allison Glenn, Associate Curator of Contemporary Art at Crystal Bridges Museum of America Art (Bentonville, AR), Humberto Moro, Curator at SCAD Museum of Art (Savannah, GA), and Gregory Volk, Art Writer and Associate Professor (New York, NY).
The Generative Performing Artist Awards panel included Denise Chapman, Associate Director, Performing Arts at the Union for Contemporary Art (Omaha, NB), Patrick Alonzo Conway, musician and composer (Kansas City, MO), Dr. Charlotte Farell, Director of the Center for Performance Research (Brooklyn, NY), and Darren Canady, playwright (Topeka, KS).
ABOUT THE VISUAL ARTIST AWARD WINNERS
Boi Boy is a Kansas City Native who got their start in the KC art community will working with M.Y.A.R.T.S. (Metropolitan Youth Art and Technology for Students). After they graduated from the KCAI Fiber Program in 2016 they were a Charlotte Street Foundation (CSF) studio resident for two years. While in school they interned with Peggy Noland and Plug Projects. Over the past few years, they have worked on installations and performances for The Kemper Museum Gala, Charlotte Street, as well the Nelson Atkins Museum of Art. They have shown work locally and nationally at the Leedy Voulkos Art Center, Vacant Farm, la Esquina Gallery, Paragraph Gallery, Front/Space, Plug Projects and Practice Gallery. In 2017 they received a Rocket Grants grant and Meow Wolf DIY Found in collaboration with Bo Hubbard to open Alter: Art Space, an interdisciplinary and collaborative artist-run space exploring the social practice of nightlife. In 2018 they received a Gift of Faith Award and are currently a studio resident at The Drugstore.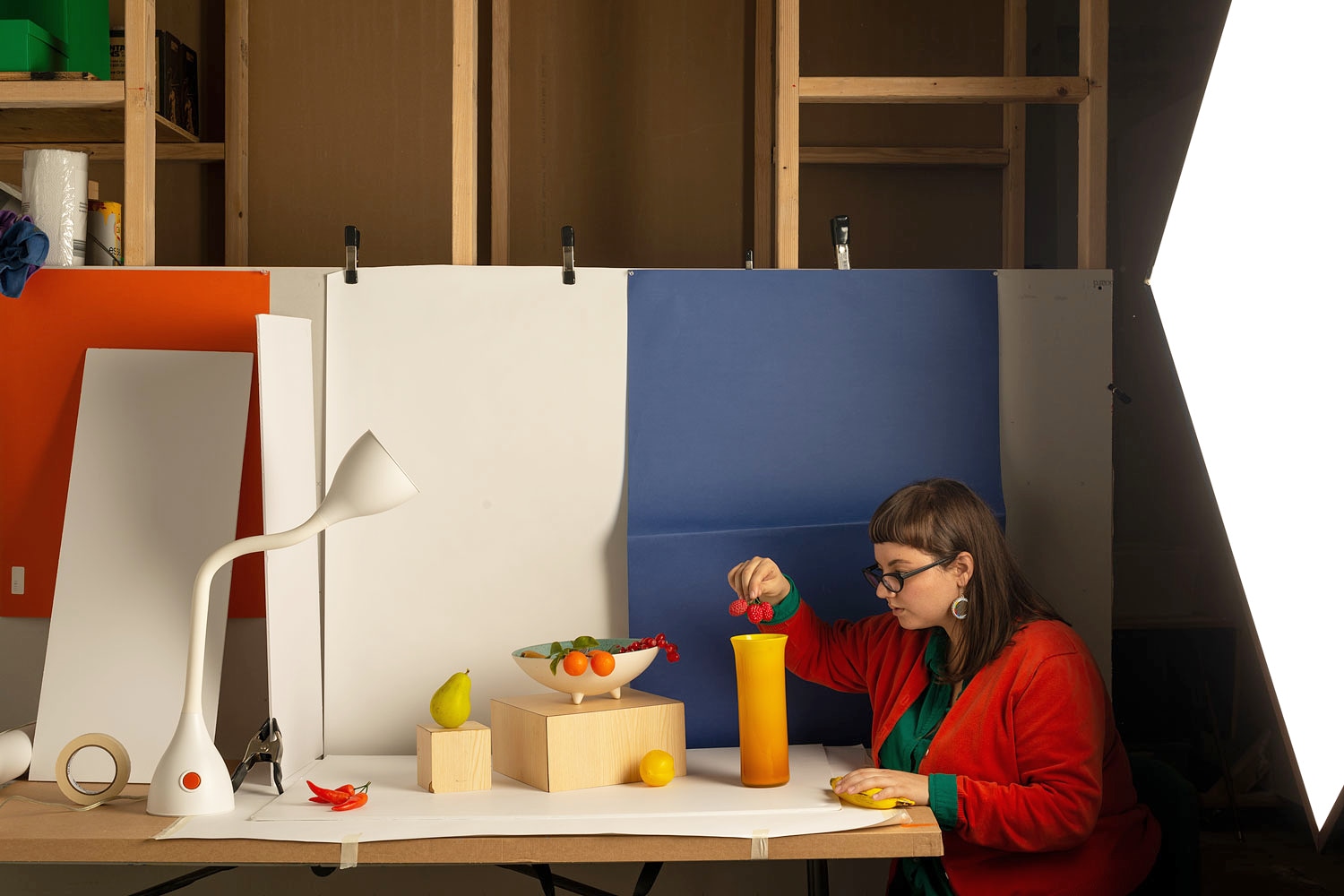 Megan Pobywajlo is a photographer transplanted to Kansas City from San Diego, California. Megan works with pictures, humor, zines, books, writing, performance, the internet, collaboration, and education to grow the democratic potential of photography.
Since 2013, Megan has created local and traveling exhibitions, public events, and publication projects centered on photography with Archive Collective.
Fatimah Tuggar is a multidisciplinary artist who uses technology as both medium and subject in her work to serve as metaphors for power dynamics. She combines, objects, images and sounds from diverse cultures, geographies and histories to comment on how media and technology diversely impacts local and global realities. Tuggar's work has been widely exhibited at international venues, in over twenty-five countries and has been the subject of various panels and articles.
Her body of work has also been integrated as parts of academic curricula, in multiple disciplines and discussions, including technology, new media, politics, cultural studies, feminism, diaspora, globalization, anthropology, social justice, sculpture, interactive media, photography, and video among others. Tuggar's art education covers three continents and a broader range of disciplines, traditions, processes, and materials.
ABOUT THE GENERATIVE PERFORMING ARTIST AWARD WINNERS
Sheri Purpose Hall is a spoken word artist, author, radio personality, educator, and minister who uses her work to provide perspective and engage in conversational empathy. She has several notable collections of poetry, epistles and essays such as "Black Girl Shattered," poetry chapbook "Chosen for Both," and workbook "Writing Wrongs: Writing to Heal," which won an award from Bike for the Brain, a non-profit organization that works to reduce mental health stigma.
She is the founder of Arsyn Press, founder of East of Red Arthouse, director of KC Poet Tree, regional coordinator for Poetry for Personal Power, co-slammaster of the For-The-Win slam team, and provides coordination assistance for InterUrban ArtHouse, 4 HISWILL Entertainment, and Bold Poets.
Sheri Purpose Hall is a 2018-2020 Charlotte Street Studios Resident Artist, the 2017 ArtsKC Inspiration Breakfast featured artist, and a 2017 Arts KC Inspiration Grant recipient. She has also earned the opportunity to represent Kansas City Nationally as an individual competitor at the Women of the World Poetry slam 2 years in a row (2017/18) and as a team competitor at the National Poetry Slam 4 years in a row.
David Wayne Reed is a writer, director, and producer from Kansas City, Missouri. His work includes "Help Yourself," "Jolly Rancher," "Mother Trucker," "Mother Trucker 2: Ride On," "Sequoia," and "Peggy and Paul at the Post Office in Provincetown."
As an actor, he has appeared at the Provincetown Tennessee Williams Theatre Festival, Kansas City Repertory Theatre, Unicorn Theatre, Fishtank Performance Studio, The Living Room, Late Night Theatre, and Seaside Repertory Theatre. He is a Rocket Grants recipient, a grant from the Andy Warhol Foundation for the Visual Arts, and administered by Charlotte Street Foundation, and Spencer Museum of Art. He has received two Inspiration Grants from Arts KC, has won multiple Best of Awards from the Pitch Weekly, and has been Writer-In-Residence at Charlotte Street and Escape to Create.
His early career as a founding member of Late Night Theatre is part of the permanent collection of the Gay and Lesbian Archives of Mid-America (GLAMA) at University of Missouri-Kansas City. Reed is a member of the Dramatists Guild of America and he hosts and produces the popular 'show and tell' storytelling series, "Shelf Life." His debut film, Eternal Harvest premiered in spring 2018 and will become a traveling exhibition with Exhibits USA beginning in 2020.
ABOUT THE JURORS
VISUAL ARTIST AWARD JURORS
Erin Dziedzic is Director of Curatorial Affairs at Kemper Museum of Contemporary Art, Kansas City, Missouri. Dziedzic curated Polly Apfelbaum: Waiting for the UFOs (a space set between a landscape and a bunch of flowers); Angela Dufresne: Making a Scene; Worlds Otherwise Hidden; Adam Cvijanovic: American Montage; Xaviera Simmons: Number 16; Siah Armajani: Bridge Builder; Rashid Johnson: Hail We Now Sing Joy; and was co-curator of Magnetic Fields: Expanding American Abstraction, 1960s to Today.
She has contributed to publications with Kemper Museum, Savannah College of Art and Design (SCAD), Island Press, and Nka: Journal of Contemporary African Art. She was guest editor of Art Papers (May/June 2013).
She has contributed to publications with Kemper Museum, Savannah College of Art and Design (SCAD), Island Press, and Nka: Journal of Contemporary African Art. She was guest editor of Art Papers (May/June 2013).
Allison M. Glenn is the Associate Curator of Contemporary Art at Crystal Bridges Museum of American Art. She focuses on how public sculpture can activate and engage the museum's 120-acre campus with outdoor exhibitions such as Color Field, opening June 2019. Glenn has produced exhibitions within the galleries that explore concepts of identity, language and relationships in art, such as Personal Space (2018) and Small Talk (2019). She is on the curatorial team for State of the Art II, which will open in 2020 at the Momentary.
Glenn sits on the Board of Directors for ARCAthens, a curatorial and artist residency program based in Athens, Greece that supports and promotes growth in Athens' visual arts community. She received dual master's degrees from the School of the Art Institute of Chicago in Modern Art History, Theory and Criticism and Arts Administration and Policy, and a Bachelor of Fine Art Photography with a co-major in Urban Studies from Wayne State University in Detroit.
Humberto Moro (b. Guadalajara, 1982) is curator at the SCAD Museum of Art in Savannah, GA, where he has organized solo exhibitions by such artists as Oliver Laric, Liliana Porter, Cynthia Gutiérrez, Pia Camil, Mariana Castillo Deball, Tom Burr, and Yang Fudong. Moro has held positions with ZONAMACO and Museo Jumex in Mexico City. Moro has curated projects at El Museo del Barrio, Park Avenue Armory, Johannes Vogt Gallery, and the Hessel Museum of Art in New York; La Casa Encendida in Madrid; and Museo de Arte de Zapopan. Moro holds a MA in curatorial studies from the Center for Curatorial Studies (CCS), Bard College.
Gregory Volk is a New York-based art writer, independent curator, and frequent lecturer. He writes regularly for Art in America, where he is a contributing editor, and Hyperallergic; his articles and reviews have also appeared in many other publications, including Parkett and Sculpture. Among his recent contributions to exhibition catalogues are essays on Icelandic artist Ragna Róbertsdóttir in Ragna Róbertsdóttir Works 1984-2017 (Distanz Verlag, Berlin, 2018) and painter Sarah Walker (Sarah Walker Everywhen, Gregory Lind Gallery, San Francisco, 2018).
GENERATIVE PERFORMING ARTIST AWARD JURORS
Darren Canady's work has been produced at American Conservatory Theatre, Aurora Theatre, the Alliance Theatre, Congo Square Theater, Horizon Theatre, London's the Old Vic Theatre, M Ensemble, Milwaukee Repertory Theater, Edinburgh Festival Fringe, American Blues Theater, and others. His awards include the Alliance Theater's Kendeda Graduate Playwriting Award, Chicago's Black Excellence Award, the Black Theatre Alliance Award, and the American Theatre Critics Association's Osborn Award.
His play You're Invited appeared in The Best American Short Plays 2010-2011. His work has been developed at the Fremont Centre Theatre, Premiere Stages, and Penumbra Theatre. He is an alum of Carnegie Mellon University, New York University's Tisch School of the Arts, The Juilliard School, and is a former member of Primary Stages' Dorothy Strelsin New American Writers Group. He is an artistic affiliate with American Blues Theater and Congo Square Theatre, and is a Core Writer of the Playwright's Center. He currently teaches playwriting at the University of Kansas.
Denise Chapman graduated from Creighton University with a BA in theatre. She went on to receive her MFA from the Theatre Conservatory at the Chicago College of Performing Arts at Roosevelt University. After graduation she performed with Qwest Educational Programs touring elementary and middle schools in the greater Chicago land area and worked as a Solo performing artist. She returned to Omaha in 2006 and worked with Blue Barn's Witching hour for three years as Co-Artistic director/ensemble member and at the Omaha Community Playhouse as the director of education and outreach. Currently, she is the Associate Director of the Performing Arts at The Union for Contemporary Art and an adjunct professor at Metro Community College and the University of Nebraska Omaha.
She is a strong believer that art changes our lives for the better, it gives a voice to those who feel like they are not being heard, and expresses a vision of hope to all those who are touched by it. She is an alumnus of the fellowship program at the Union for Contemporary Art.
Patrick Alonzo Conway is a percussionist, wind player and composer. He has studied with noted master drummers from around the world and has traveled to Cuba and Bali to study. Pat holds a Masters in Music Composition from the UMKC Conservatory and works with Chris Hazelton's Boogaloo 7, Matt Hopper's Agora, Peoples Liberation Big Band of Greater KC, Mesner Puppet Theater and BCR. He currently is director of the community Balinese gamelan orchestra Gamelan Genta Kasturi. His latest work, "Samvartaka", was written for and premiered at The Folly Theater for Charlotte Street's 20th Anniversary concert and also performed at Gamelan Genta Kasturis 15th Anniversary concert in the Atkins Auditorium at The Nelson Atkins Museum. Conway is also a recipient of the Charlotte Street's Generative Performing Artist Award (2012).
Charlotte Farrell holds a Ph.D. in Theatre and Performance Studies from the University of New South Wales, Sydney. She is Director of CPR – Center for Performance Research in Brooklyn, Visiting Scholar at the Segal Theatre Center, CUNY, and teaches in the Dramatic Literature Program at NYU.
Her scholarship has been published in Journal of Dramatic Theory and Criticism, Theatre Survey, Somatechnics, Peripeti, Media International Australia, RealTime Arts, and the book, Corporeality and Culture. Her current research and curatorial interests include affect, sensation, post-dramatic performance, and contemporary adaptations of classical tragedy.
For more information about the awards, please read the full press release here.