Campus
Location: 3333 Wyoming Street Kansas City, MO 64111
Contact: Call 816.221.5115 or email [email protected]
Building hours: Tuesday-Friday 12:00-5:00 PM; Saturday 11:00 AM-5:00 PM
LIBRARY
William T. Kemper Library at Charlotte Street
The Library at Charlotte Street is a non-circulating library but we love visitors to come by, browse, research or read.
Contact: [email protected]
Library hours: Wednesday-Saturday 12:00-4:00 PM
By appointment: Other times by appointment by emailing [email protected].
Know what you are looking for before you visit? You can search our catalog from anywhere. Charlotte Street uses TinyCat, which can be accessed remotely on personal devices to search the collection.
For more information about hosting private events in our library, visit Request Spaces.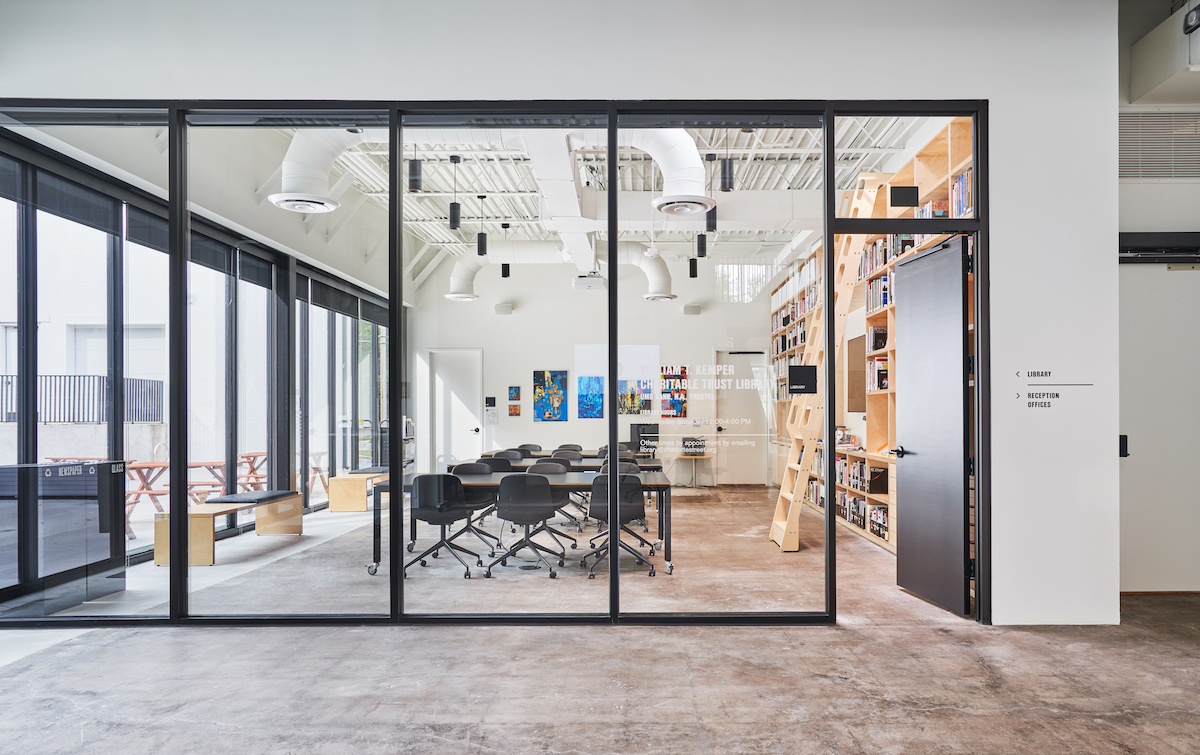 COVID-19 PROTOCOL
For the safety of our staff and patrons, Charlotte Street encourages all visitors to wear masks while visiting.
We strongly encourage attendees to RSVP ahead of time.
If you have symptoms of COVID-19 or do not feel well, please stay home.
Due to the low risk of transmission, Charlotte Street does not require visitors to wear masks outdoors.
We will continue to evaluate and update our COVID-19 protocols based on community health data and public health and government guidance to ensure that Charlotte Street's programs remain as accessible to the public as possible. Please check back for more updates in advance of our public programs.
We thank everyone for their understanding and commitment to the health of the community.
Charlotte Street is committed to social and economic justice for all people with disabilities and seeks to create inclusive communities and access to all our spaces and programs. Here is what to expect when you come to Charlotte Street and the accommodations we are able to offer.
PARKING/WHEELCHAIR ACCESS
There are three parking areas available at Charlotte Street's campus. Parking located on the north side of the building includes ADA accessibility to the Charlotte Street Gallery. The south lot provides an ADA accessible route that leads through the courtyard to the first floor lobby. Both entrances to Charlotte Street are equipped with automatic doors for wheelchair access. Street parking is also available along Wyoming Street.
SERVICE ANIMALS
Service animals are welcome at Charlotte Street! If you have any questions about this policy or need assistance in planning your visit, please call 816.221.5115 or email [email protected].
RESTROOMS
Gender neutral accessible restrooms are located on the first floor, and have wheelchair accessible bathroom stalls within.
SENSORY
Lighting and sound will vary depending on exhibitions and programs at the time. Please check information about each exhibition and program for details. High ceilings in the gallery and lobby will amplify sound when there is much activity. There is a small meeting space located near the public restrooms available if privacy is required, however it is not a quiet room as noise from the lobby can bleed into the space.
CLOSED CAPTIONING
Programs occurring remotely use zoom automated closed captioning and available for all virtual programs.
ASSISTIVE LISTENING
IN STERN THEATER, LEVEL 1
Charlotte Street provides FM assistive listening systems in the Stern Theatre. These are made available in the lobby for all events and programs.
The following services can be provided when requested with two weeks' notice. To request, please email [email protected].
AMERICAN SIGN LANGUAGE INTERPRETATION
ASL interpretation can be provided for in-person and virtual programs when requested. Relay and voice calls are welcome and can be accessed by calling 816.221.5115.
VERBAL DESCRIPTION
Verbal Description is available for in-person programming events when requested.
LIVE CAPTIONING
Live captioning is available for virtual and in-person programming and events when requested.
EXHIBITION TRANSCRIPTS
Transcripts are available for audio and video works with sound, and downloadable with exhibition information on our website. Large print copies can be found in gallery.
If you have access-related questions or feedback for Charlotte Street please contact [email protected].