Artist Profile
Maria Ogedengbe
Installation, Mixed Media, Painting, Sculpture, Textiles
Statement of Work
•
Works produced through my studio are hybrid and varied. From canvas to rope, to the netting of cord with beads, to fashion a shekere… textiles often serve as material and theme in my work. I seek to engage a wide audience, and to that end several recent projects have been situated along public thoroughfares outdoors.
Fancy This, 2017 - Idea of presenting a painted "canvas" in an outdoor context & stirring up fanciful daydreams about voyages on the nearby Missouri River, on view in City Market Park of Kansas City, along the street car line from May-October. Created for the City of Kansas City, Missouri & Art in the Loop Foundation Cue! program.
Missouri GOURDen garden house, 2017 - Built for the Missouri GOURDen community arts & gardening project. Project goals include offering recreation and a shared project (raising gourds & fashioning them into instruments) for Kansas City, Missouri neighbors from a range of socio-economic backgrounds. 3 pairs of trellis walls are interspersed between 3 doorways to create an open, welcoming meeting place - a shady refuge in summer. The garden house, encircled by the garden, is situated adjacent to Troost Avenue, seen as a dividing line between neighborhoods that differ by race/class in Kansas City. This was funded in part through a grant from ArtsKC.
Fancy Buoy, 2017 - Eyes, resembling fish, recall eyes on sails of ancient Greek ships. Sail tethered to limit movement, let down during bad weather/high winds & stowed in a sail cover I sewed. This was located in the Olathe Downtown Outdoor Sculpture Exhibition, through spring 2018. It is sited at edge of Calamity Line Park in view of a busy road.
Sis !, 2016 - Strap fastened to back of the swing seat served as an invitation to pull the figure & make her swing. It is displayed beneath a great oak in the Roeland Park (Kansas) Community Center courtyard in July & August 2016.
Painting Contest: MO real, 2015 - Relates an ancient story recorded by Pliny the Elder of a contest between painters: a painting of grapes was so real-looking it fooled birds, but a painting of a curtain fooled the other artist when he reached to pull it back - thinking the painted image was behind. It was commissioned by Missouri Bank through the Charlotte Street Foundation; displayed in Kansas City's Crossroads Arts District Sept. – Nov. 2015.
Visit Website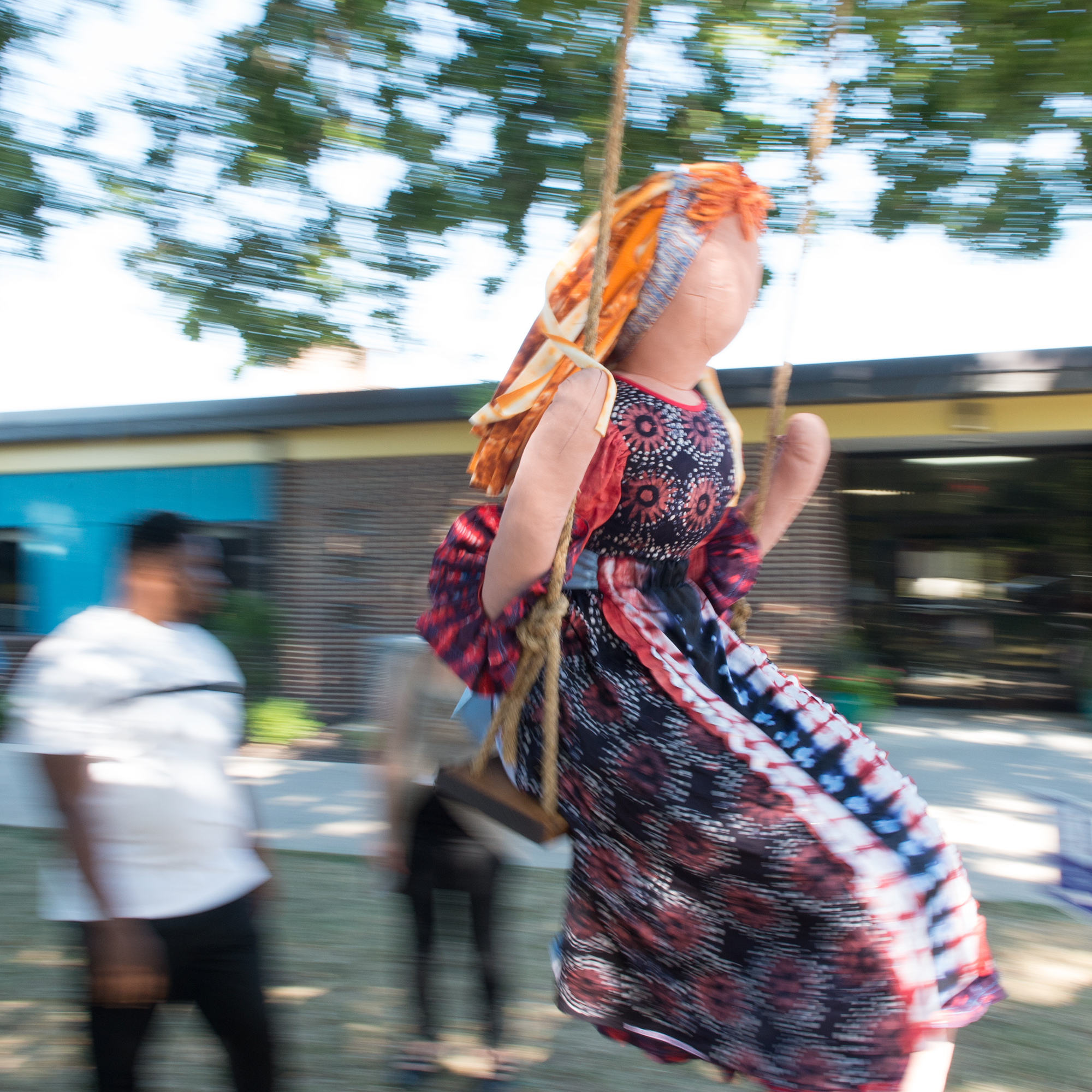 " "
With another work, Love Apple Coloring Test (2016), subjects were derived from the Coloring Test, used as evidence in favor of the Brown vs. Board of Education decision. Through this artist's residency project, quilt squares masked with artist-designed stencils were painted by Topeka 2nd graders and assembled into a Love Apple-style quilt.